Alpine Valley Music Theatre | East Troy, Wisconsin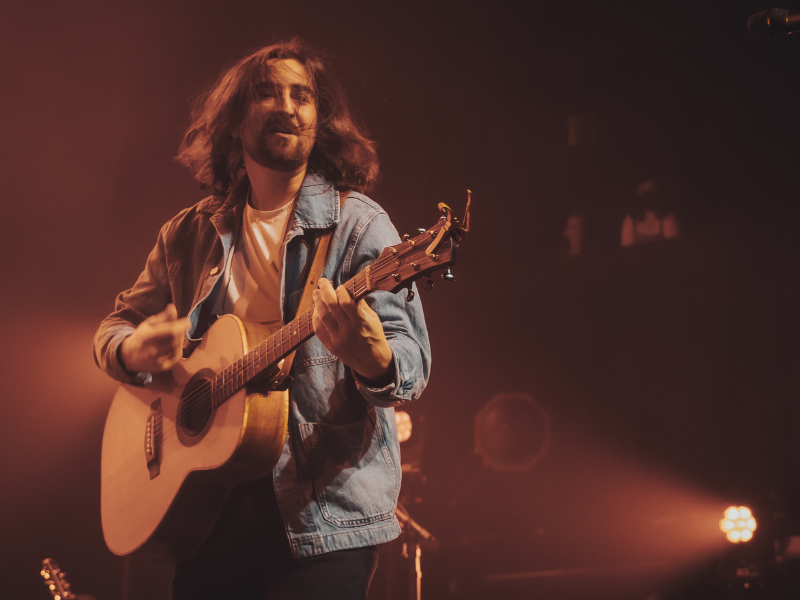 Join us in Noah Kahan's much-anticipated Alpine Valley Music Theatre visit on Saturday, July 13, for his US We'll All Be Here Forever Tour! Originating from the quaint corners of New England, the folk-pop rising star has swiftly captured hearts, drawing audiences into the embrace of small-town nostalgia through his music. Noah Kahan's breakthrough album, Stick Season, catapulted him to the top of the charts, including an impressive third-place ranking on the prestigious Billboard 200 weekly list. He's also the creative force behind gold-certified hits such as "Dial Drunk," "Northern Attitude," and "False Confidence." This thirty-two-date journey will be in support of Kahan's expanded third album. Its stop here in East Troy, Wisconsin, will land at the Alpine Valley Music Theatre. The MASSIVE outdoor venue can hold 37,000 guests and amaze them with a seamless blend of nature and cutting-edge concert technology. Secure your seats now!
Reconnect with Noah Kahan on his new North American road trip featuring the irresistible sound of his latest music release! Titled "We'll All Be Here Forever," the series will make 32 pit stops across the country, with a special visit here at the Alpine Music Valley Theatre on the 13th of July. This fresh run follows the resounding success of last year's sold-out Stick Season Tour, now promoting the extended version of Kahan's third studio album.
Some of the most emotive songsmiths took their running start in the American indie folk landscape, and among them is Noah Kahan, a rising talent hailing from New England. Gifted with a hand for writing ballads, our featured artist composes heartfelt hymns of small-town life. While Kahan made his official foray into the music industry in 2019 with his debut album, "Busyhead," it was only with his third offering, "Stick Season," that he ascended to the forefront of the mainstream.
The album's multi-platinum title track, along with the chart-topping hit "Northern Attitude," guaranteed nothing short of decisive success. It climbed to the peak spot of both the US Top Alternative and Rock Album charts, not to mention a third-place steal in the cut-throat Billboard 200 weekly rankings. Kahan's rise this past year can't be described in any other way than meteoric.
"I think, whether we like it or not, where we're from will always play a part in our lives… For me, in particular, my hometown has always been a very magnetic force. For me, it's been a source of a lot of pain and a lot of moments of hardship. But it's also been a source of so many moments of beauty," Kahan reminisced in an earlier interview with Paste Magazine.
No official setlists for the tour have dropped so far. For now, here's Kahan's latest one for a potential sneak peek!
Northern Attitude
She Calls Me Back
New Perspective
Everywhere, Everything
Your Needs, My Needs
Maine
Growing Sideways
Paul Revere
All My Love
False Confidence
Call Your Mom
You're Gonna Go Far
Orange Juice
Dial Drunk
Encore
The View Between Villages
Stick Season
Homesick
The Alpine Music Valley Theatre in East Troy, Wisconsin, will have the privilege to host the visiting musician's LIVE show this Saturday, July 13. Once you've set foot on the vast grounds of the amphitheater, you'll be greeted by a friendly staff who'll make sure your stay is stellar! Here, you can enjoy the great outdoors while maintaining clear sightlines and sound coverage from center stage, so book your tickets now for the Noah Kahan LIVE experience!