Alpine Valley Music Theatre | East Troy, Wisconsin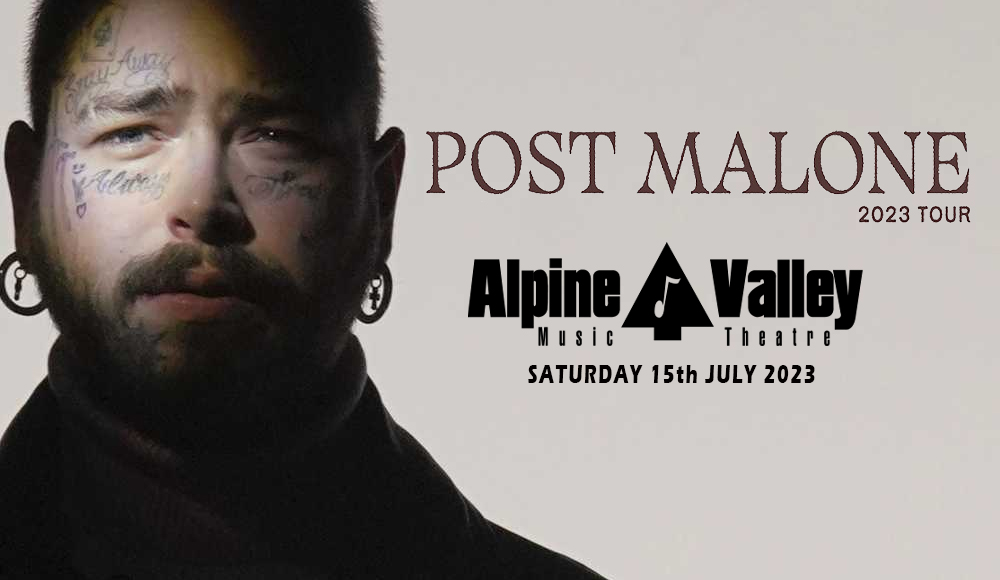 "If ya'll weren't here, I'd be crying," exclaims the world's favorite hard-hitting rapper, singer, songwriter, and rockstar, Post Malone. Dropping the deets on his upcoming fifth album "Austin" out on July 28th, the rapper is giving fans at the Alpine Valley Music Theatre a taste of the new record as he performs his 'IF Y'ALL WEREN'T HERE, I'D BE CRYING' Tour live at Wisconsin on Saturday, 15th of July 2023. The tour follows his successful North American trek in support of his fourth album "Twelve Carat Toothache". Sharing a taste of "Austin" through his new single, "Mourning", drinking through good times and bad times across late-night parties and morning afters. From beerbongs and Bentleys livin' life like a rockstar, Post Malone is stoked to share music rooted in his purest self, sharing that it's among the most fun, challenging, and rewarding records he's ever produced. As Austin hits the stage with new music, save his tears by popping up at the 'IF Y'ALL WEREN'T HERE, I'D BE CRYING' Tour by booking your tickets now!
'Seasons change as Post Malone drops his newest self-titled album, "Austin". Taking a reflective journey back through late-night parties and morning afters in his new single "Mourning", the singer is stoked to share the new album in its entirety this coming July 28th. Currently on the European leg of his "Twelve Carat Tour" in support of his fourth album, the man heading right back on tour, and said he'd be crying if ya'll weren't there. As "Austin" starts dominating airwaves, Post Malone is set to hit the stage on his IF Y'ALL WEREN'T HERE, I'D BE CRYING' Tour kicking off this July.
We bet your playlist's been 'running in circles with the man's raspy voice singing his hard-hitters, "Circles", "One Right Now", "Better Now", "Rockstar", "I Like You (A Happier Song)", "Chemical", and the list goes on! Just a year after his highly-anticipated album "Twelve Carat Toothache", the man is back with a record that's set to share his roots and introspective tales on life. Known for his edgy & raspy vocals to hard-hitting bars and crushing lyrics, big surprises can be expected of "Austin". Heck, he'll cry if we don't pop up on tour!
Sharing the record's new album cover, "This whole deal has been one of the most challenging, rewarding, and exciting records I've worked on," he wrote. Sharing two singles off of "Austin" ahead of its full release with "Chemical" and "Mourning", we're definitely in for an emotional rockin' ride!
"I feel it captures who I am as a man and as an artist in this moment," he added. Thank y'all so much for your patience, and thank you for being there with me in my hardest times. I love y'all so much, and am ready to fucking party with y'all. Cheers, and keep spreading love."
Living the best days of his life as a new dad, and sharing his hard-hitters live on stage, the man is stoked to share his new music with ya'll, to the point that he'd cry if you weren't there to catch 'em live. "I love y'all so very much and I'm so excited to get out and do some more shows for y'all," he shared. "Help me put a baby through college and come on out. Some cool new production, new songs, and a very very handsome man up on stage. Sending love to you and yours."
Dominating the scene with his strikingly raw and honest lyrical tales sung through layers of alluring effects and depths of emotion, Post Malone won hearts around the globe for his singles "Congratulations" featuring Quavo, "Rockstar" featuring 21 Savage, "I Fall Apart", "Better Now", "Sunflower", "Goodbyes" featuring Young Thug, "Circles", "One Right Now" with the Weeknd, "Cooped Up" featuring Roddy Ricch, and many more. As raw and mature as his music is, Post Malone's personal life is taking a switch towards happiness and joy as he lives the life of a new dad. With a new album hitting shelves soon, the man is set to continue telling introspective tales of life's highs and lows.
Don't miss out on the 'IF Y'ALL WEREN'T HERE, I'D BE CRYING' Tour live at Alpine Valley Music Theatre on July 15th by booking your tickets now!